Buds are starting to swell on trees and the earliest spring bulbs are showing signs of life. It's time to remove any holiday or string lights from your landscape. If you leave them up all year, they aren't special. Now that the days are growing longer you don't need them. Replace them with a sleek oil lamp for the summer season.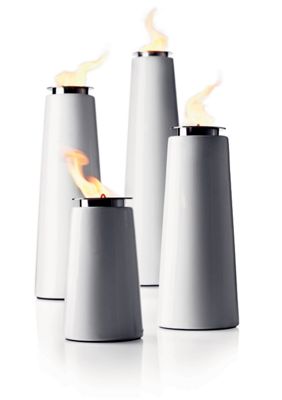 The Lighthouse Torch (pictured above) is available at Design Within Reach. Created by the Danish designer, Christian Bjorn, they have a very modern feel. Detailed in porcelain and stainless steel, the flame at the top is much bigger than what a typical candle provides. Read more about Christian Bjorn's design aesthetic and products here: http://www.christianbjorn.dk/uk/index_uk.html
For an even bigger impact in the landscape, try out this giant stainless steel version available at Frontgate. Ranging from 42″ to 64″ in height, these lamps are truly striking. You can even use citronella oil in them to keep pesky mosquitos under control. Who knew grandma's stinky little bug candles would transform into something so sleek? I recommend using these in a backyard since rooftop gardens are generally too windy.